My earlier post, Forbes Field and the University of Pittsburgh, focuses on the portion of the original outfield wall that remains at the former site of Forbes Field, now part of the University of Pittsburgh.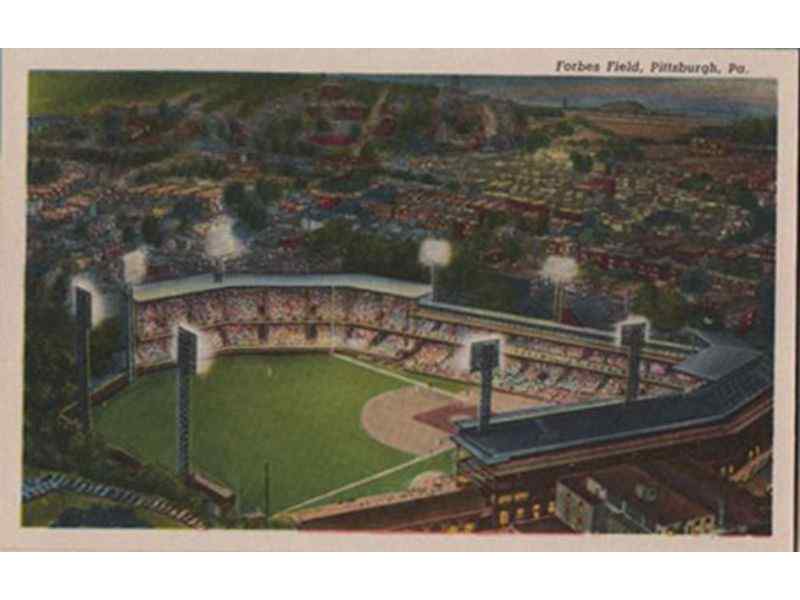 The original outfield wall is not the only artifact of Forbes Field remaining at the site.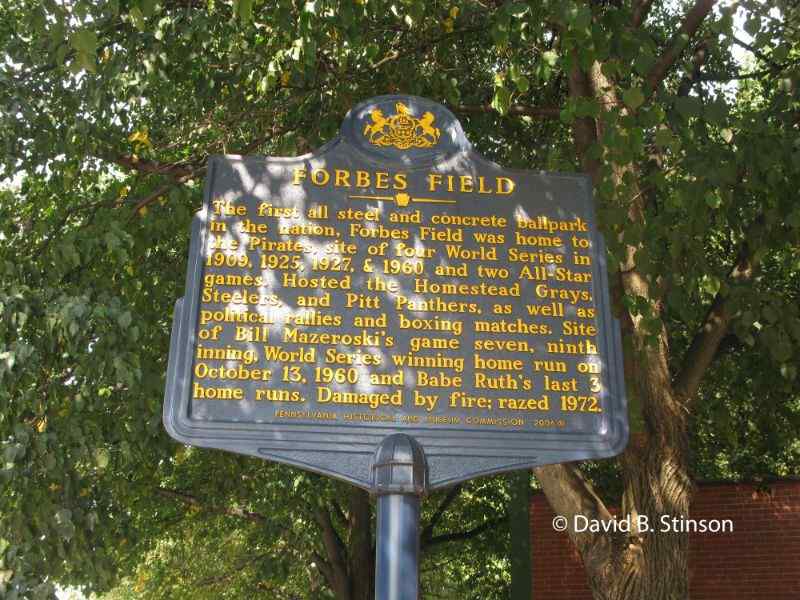 The former location of home plate is inside Wesley Posvar Hall, a six-story building constructed by the University of Pittsburgh in the mid 1970's.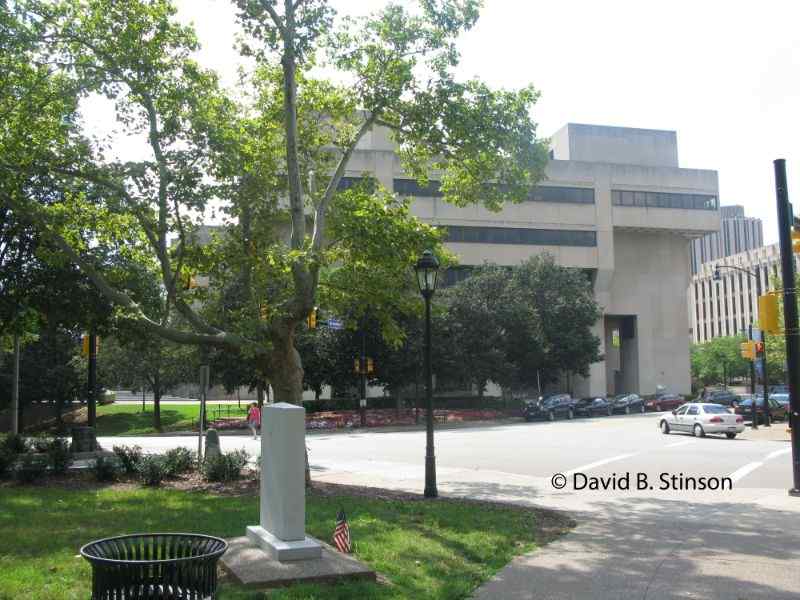 A plaque outside Posvar Hall recognizes Barney Dreyfus, owner of the Pittsburgh Pirates from 1900 to 1932.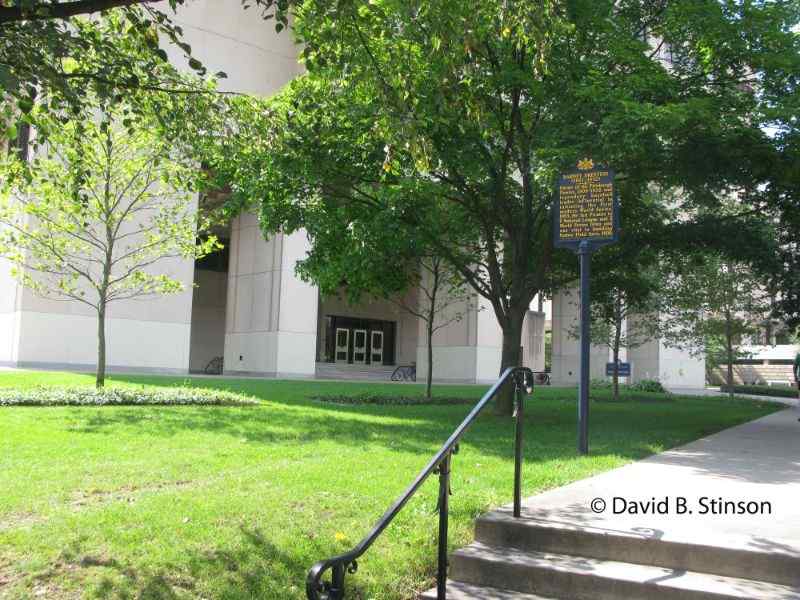 The actual home plate from Forbes Field is encased in glass and set into the floor in its "approximate" former location.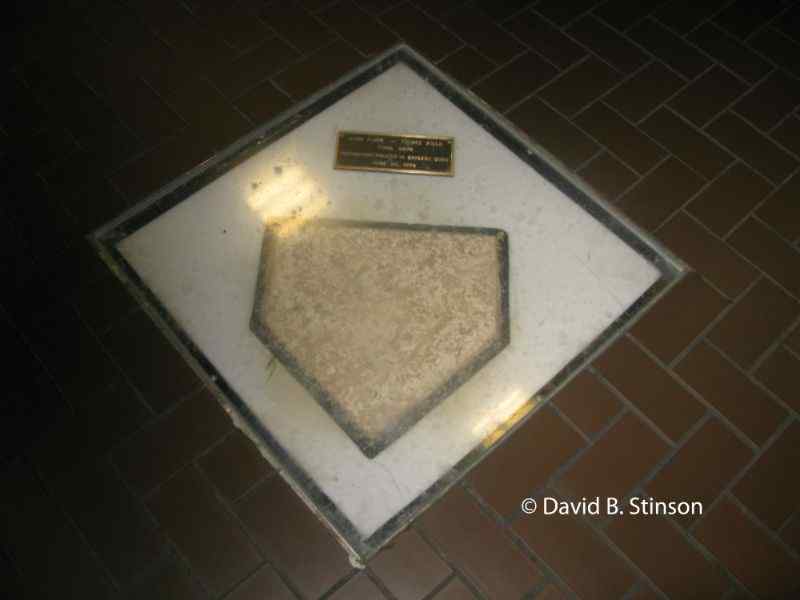 Hung on a wall next to home plate is a photograph of Forbes Field taken from the Cathedral of Learning, which is located several blocks beyond what was once left field.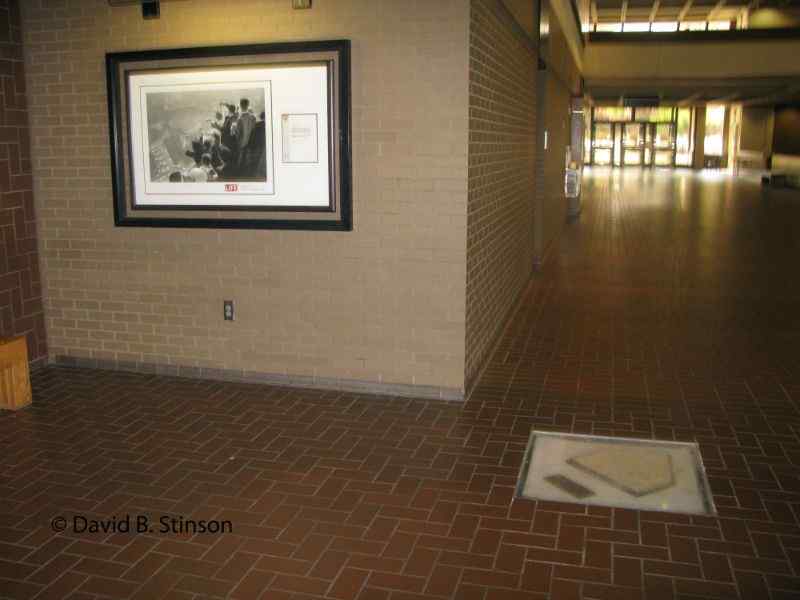 About 90 feet from the home plate marker inside Posvar Hall is an oil portrait of Wesley W. Posvar, the University's 15th chancellor.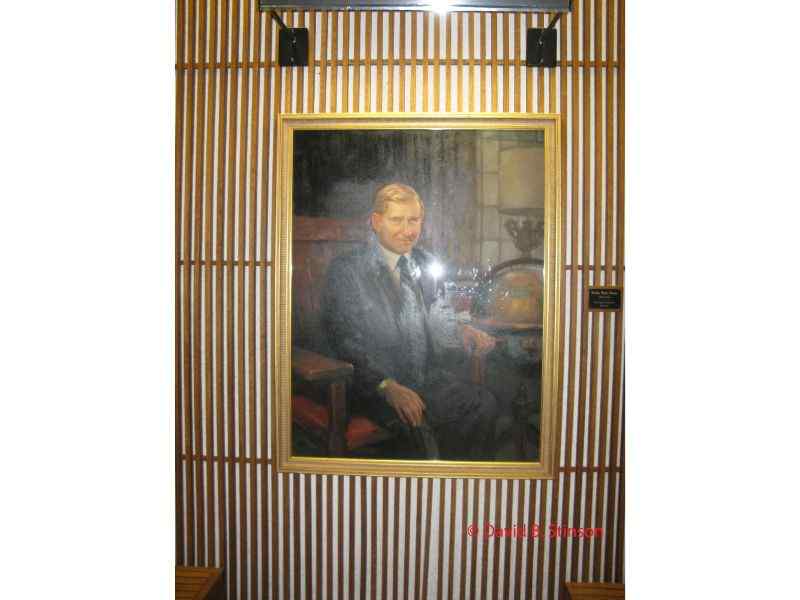 Outside Posvar Hall is a line of of bricks that lead across Roberto Clemente Drive to where the remnants of the outfield wall begin. About 15 feet tall, and perhaps 180 feet long, the wall is constructed of red brick and divided by concrete columns spaced 12 feet apart. The columns are covered in green paint and the wall is capped with blocks of weathered grey granite. Next to the wall is the original center field flag pole.
The wall ends at what once was the right-field pavilion. For additional pictures of the Forbes Field wall, check out my earlier post, Forbes Field and the University of Pittsburgh.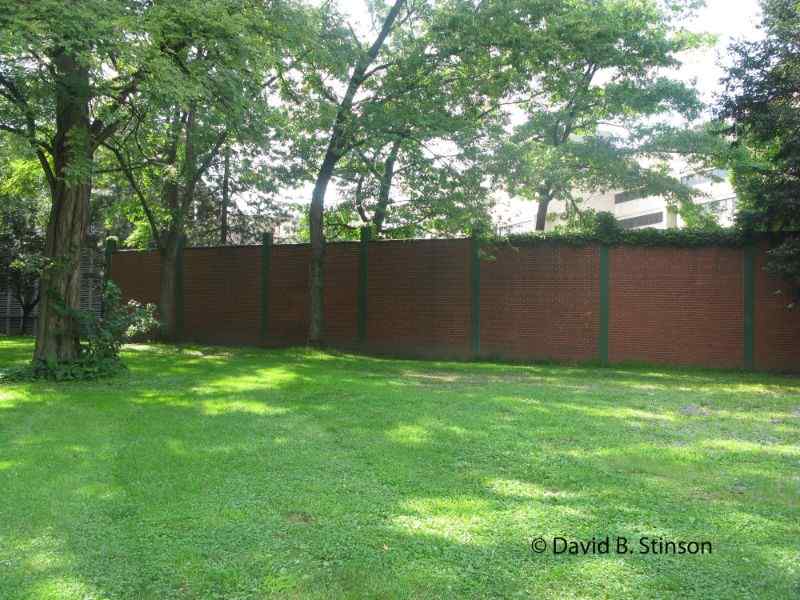 Behind the Forbes Field wall is a youth baseball diamond.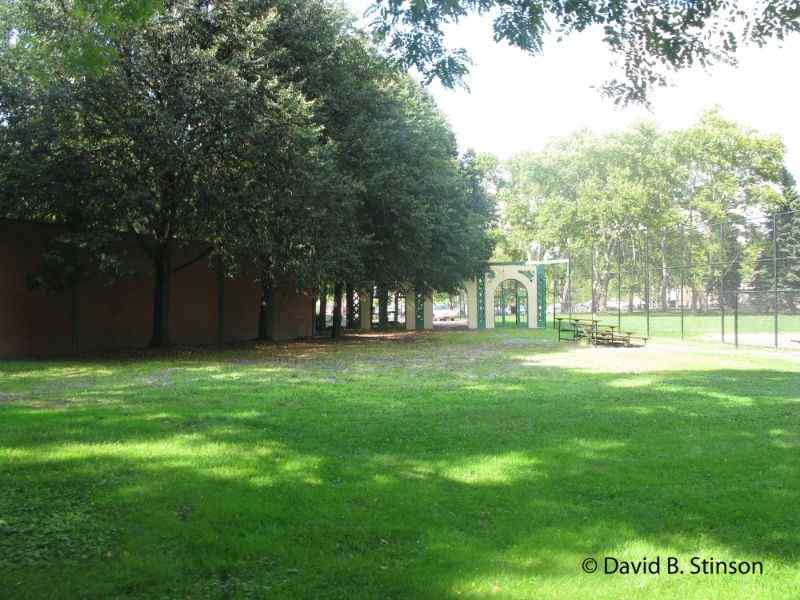 Also behind the wall is a replica of the entrance to Forbes Field.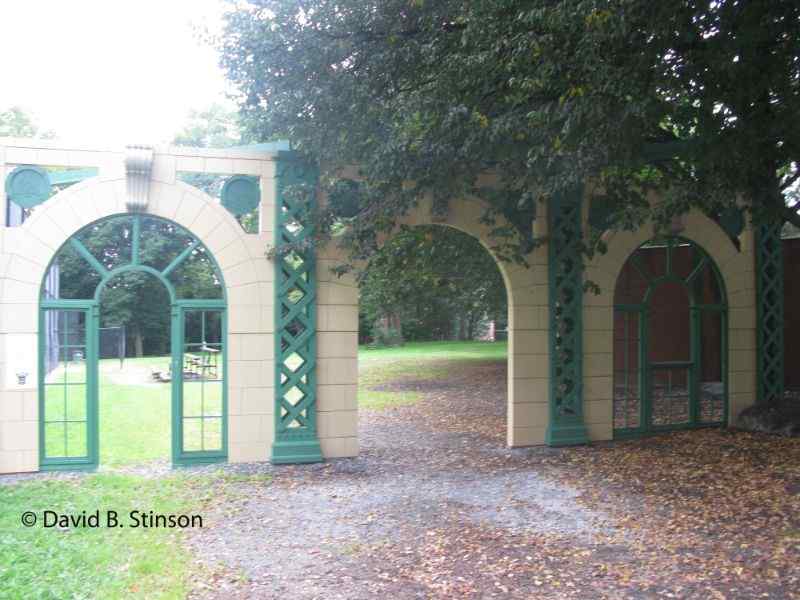 Constructed of wood, the entrance way replicates the cream-colored, tiled facade of Forbes Field.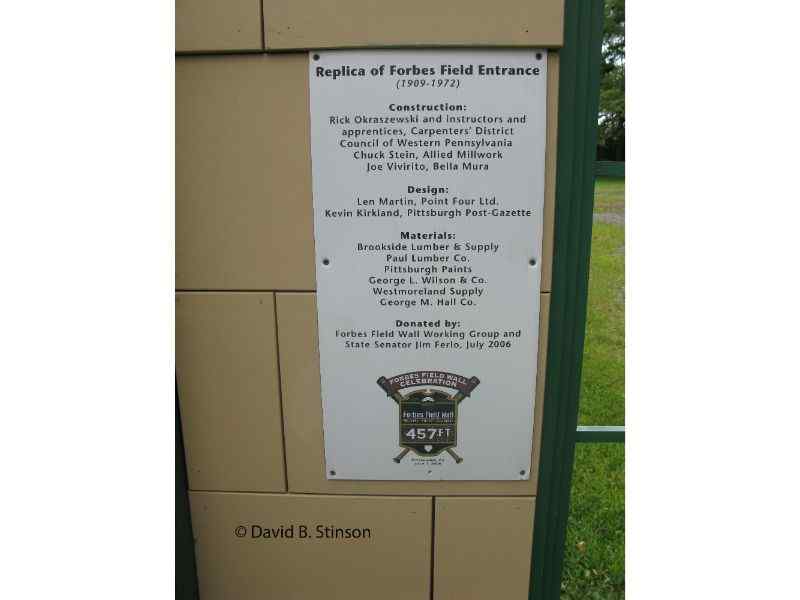 Behind what would have been the right field pavilion is the top landing of a concrete stairway with painted aqua green pipe hand rails. The stairway once provided ballpark access for fans arriving from Joncaire Street in Panther Hollow.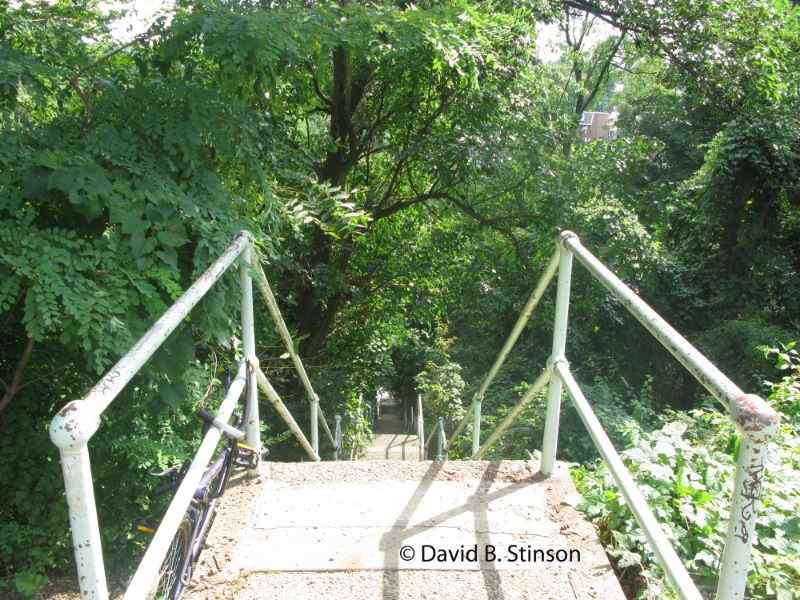 Next to PNC Park, the Pirates current home, is a statute of Bill Mazeroski crossing home plate, in honor of his 1960 World Series walk of home run. Part of the fence surrounding the plaza includes a portion of the Forbes Field brick wall – marked "306 FT" – which was removed during the demolition of the ballpark and resided for a while at Three River Stadium. It was this portion of the Forbes Field wall that Mazeroski's famous home run cleared for the game winner.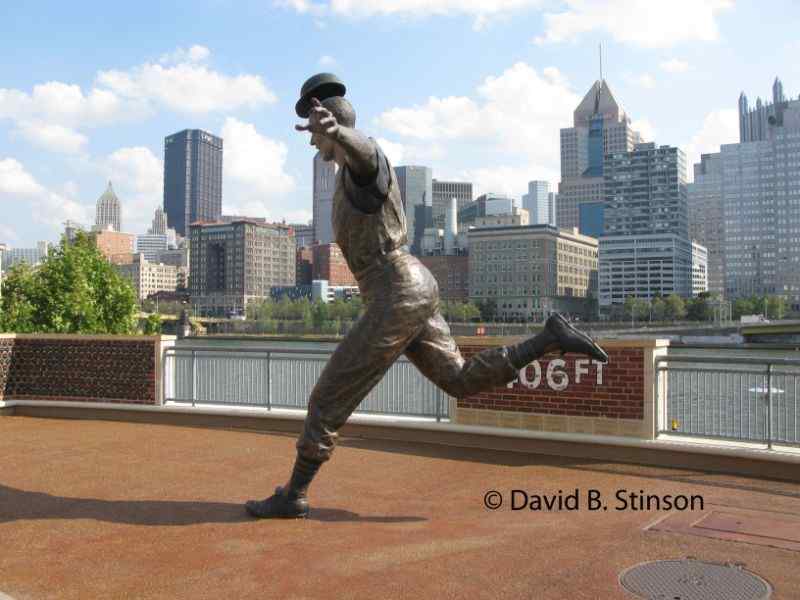 Although Forbes Field is now just another lost ballpark, what remains at the site is well worth a stop for any baseball fan passing through Pittsburgh.